Analysis Model¶
In order to use a 3D model for analysis, an analysis model needs to be created.
An analysis model verifies the integrity of the inputted geometry and ensures:
There are no unintentional 'gaps'

Planes are 'physical' (realistic)

Windows are contained within walls

No overlapping geometry
The analysis model also contains information about surfaces such as:
Other surfaces they are linked to

Volume calculations

Area calculations

and can be used to perform:

Shadow calculations

Daylight calculations
The analysis model can also be exported to the Building Simulator, for thermal analysis.
Note
You should always visually inspect the analysis model, as this represents the geometry that will be used for building analysis.
Creating¶
To create an analysis model, first select a 3D view.
Then go to Model >> Analysis Model >> Show in the ribbon:

If there are any problems or potential problems with the model, the errors and warnings dialog will appear.
You can click the Show button again to toggle between the 3D view and analysis model.
Refreshing¶
If you change the geometry in the model when an analysis model has already been created, you will need to update the analysis model by pressing the Refresh button.
This is very important, as daylight analysis and shadow calculations will be performed on the current analysis model.
Warning
You must refresh the analysis model after making changes to the geometry before performing daylight calculations.
To refresh the analysis model, go to Model >> Analysis Model >> Refresh in the ribbon.
Exporting¶
You can export the analysis model to the Building Simulator via Model >> Analysis Model >> Generate Building in the ribbon: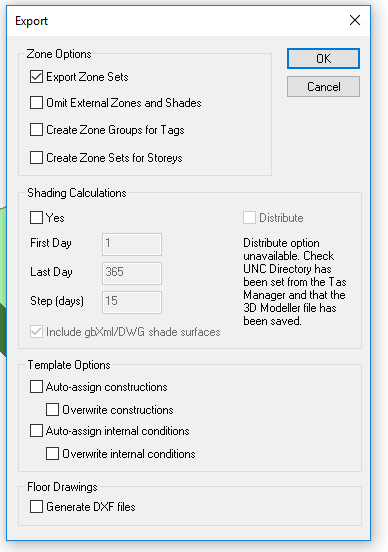 The export dialog contains a number of options that allow you to control the information that is exported to the Builidng Simulator.
Viewing¶
In the 3D modeller, there are a number of view options that apply specifically to the analysis model.
These options are quite helpful when visually inspecting the model to verify correctness.
You can filter the 3D analysis model by:
You can also choose to colour the model by:
Building Element

Zone

The nature of the surface (exposed, adiabatic, internal etc..)