Other Tools¶
The tools in this section can be used in both the 2D and 3D views.
Zoom Tools¶
The main zoom tools can be accessed from the View section of the Ribbon:

The Fit All tool can be used to zoom out so that all geometry is visible in the current view.
The Area tool allows you to draw a rectangle and zoom into that rectangle.
The Selected tool allows you to zoom in on only the selected items.
Zoom to Zone¶
You can also locate a zone by right clicking on it in the zones panel, and selecting show zone: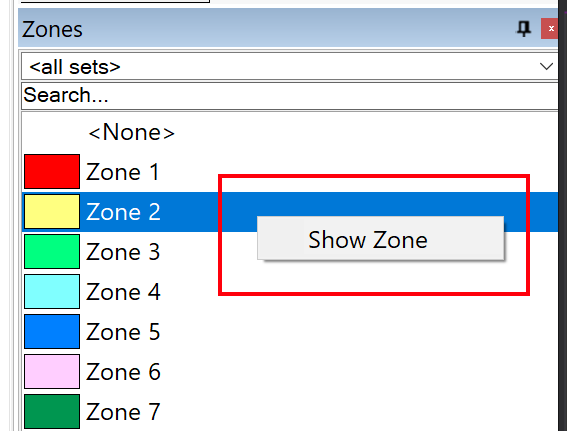 This will zoom to the zone in the currently selected view. If there are multiple occurrences of the zone, press the button again to zoom to the next instance.
Pan Tool¶
The pan tool can be found by going to View >> Pan/Zoom in the ribbon. It has the keyboard shortcut Alt + X.
You can press this shortcut repeatedly to toggle the pan tool on and off.
Alternatively, you can pan by holding the middle mouse button on the keyboard.
Unzone Building¶
If, for any reason, you wish to unzone every space in the entire model without deleting the zones, you can do so via Model >> Other >> Unzone Building.